Sitting Together
Sit together to maximize communication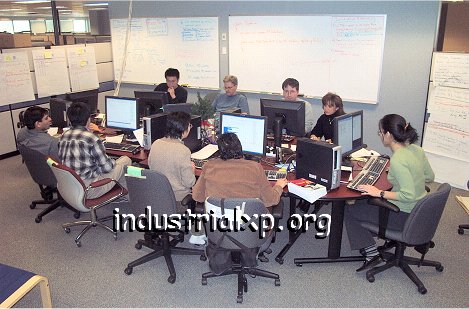 The highest bandwidth communication known to man is face-to-face communication. To setup a team for success, XP teams sit together. This enables team members to collaborate quickly and effectively.

How is it possible to concentrate in such an environment? It's easy. As individuals become used to pairing, everyone is focused on a task. The noise in the room becomes background noise, unless you decide to tune in to help others. Many folks who have never done XP can't imagine how this could possibly work, yet time and time again we see that those who try it learn to love it. There is simply no faster way to collaborate than sitting together.

The best arrangement for sitting together allows diverse members of a project community to collaborate easily. Organizations that adopt XP have often knocked down many cublicle walls to make this possible.
Further Reading
This practiced used to be called on-site customer.