Project Community
Identify and include people who can effect your project or can be affected by your project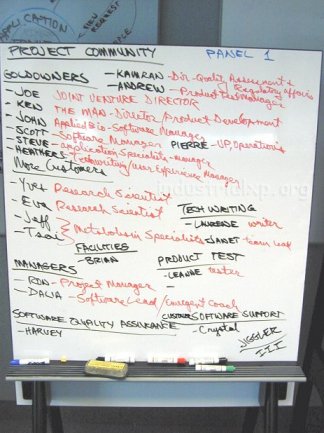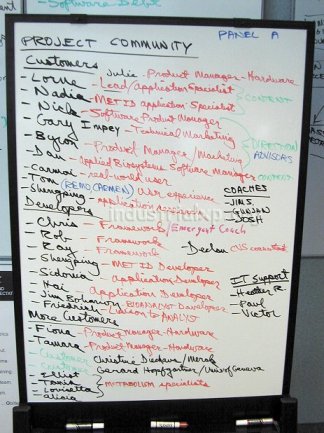 What is a Project Community?

A project community is a population of people that effect a project or can be affected by a project. It's always bigger than you think. A member's involvement need not be (and rarely is) defined by proximity. Each is defined, rather, by their influence and their ability to influence the outcome. Membership is neither voluntary nor conscripted, but more a matter of where the ball lies. Like in golf, the rough, sand traps, barriers, as well as the fairway, green, and pin are all influences on the achievement of the objective; each member brings their influence subtly and inexorably.

The primary issue facing every project is the lack of awareness of its own community-ness. That's why the first steps are well focused upon increasing this awareness within the community. The inclusionary mindset is a necessary precondition for the project manager. Her first responsibility to the project, after getting clear about her own purpose for engaging, is to help the others understand their influence and to help each find "their project within the project." This is a cute way of saying that she needs to fully acknowledge each individual's influence and to understand what they are using the project to pursue. -- David Schmaltz
[Excerpted from message 233 on the IndustrialXP email list ]
Extreme Programming is aimed at producing only what people value and need. To produce such software, our Project Community must include those who will use our software and thoroughly influence what we create for them. If sales and marketing people have influence on what our software does and how it sells in the marketplace, they must be members of our Project Community.
Human resources folks participate in our projects in unseen ways: for example, they assess project worker performance. Such assessments may influence the actions of project workers and managers. And yet, such assessments may be out of alignment with the nature and actions of the Project Community . One way to help improve the way we assess people's performance within the organization is to have human resources members in our Project Community.
Some projects we've coached have not adequately involved building maintenance. And yet, establishing a comfortable working environment by configuring and re-configuring furniture and computers has been an important part of every XP project. Without building maintenance membership in our Project Community , we've had to wait for changes or make unauthorized changes that upset people in the organization. What's the problem here? Building maintenance can help us do better project work so they must be members of our Project Community.
Further Reading
The Blind Men And The Elephant : Mastering Project Work, by David A. Schmaltz